2023 EDITION MEVO+ SWINGBAY
Golf Simulator Package
FAST & FREE
SHIPPING
30-DAY
RETURNS
LOW PRICE
GUARANTEE
SECURE
CHECKOUT
Play

and

Practice

Anytime

The FlightScope Mevo+ 2023 Edition SwingBay Package has everything you need to make your dream home simulator a reality.

From the turf and hitting bay, the laptop and software, to all the random cords and adapters you need. We include it all to help you get more and spend less.

Play the world's best courses, analyze your game with in-depth shot data, or play skills challenges with friends. The 2023 Edition Mevo+ SwingBay Golf Simulator is a golf experience like no other.
What's Included
Everything you need is included! Items marked with (optional) can be customized and/or removed.
✓ 2023 Edition FlightScope Mevo+ & Carrying Case
✓ FlightScope App
✓ The SwingBay Hitting Enclosure and Screen
✓ SwingBay Side Netting
✓ Free E6 Connect App (10 Courses) or TGC 2019 Simulation Software (add-on)
✓ Choice Between iPad Pro or Gaming Laptop (optional)
✓ Laptop or iPad Stand (optional)
✓ Laptop Sleeve & Mousepad (w/ Laptop Choice)

✓ Choice of Golf Mat Size
✓ 5'x10'7" Landing Pad Turf x2
✓ Optoma 1080p HD Short Throw Projector
✓ Projector Floor Enclosure or Ceiling Mount
✓ 25' 1080p HDMI Cable
✓ Apple HDMI Adapter (w/ iPad Choice)
✓ Birtees
✓ Ball Tray

Our Packages
vs

The Competition

See how our golf simulator packages compare to leading competitors
The Most
All-Inclusive

2023 Edition Mevo+ Simulator Package on the Market

HERE'S WHAT YOU'RE GETTING

 
2023 Edition FlightScope Mevo+
The 2023 Edition Mevo+ is an industry leading golf simulator and launch monitor. With accurate data, skills challenges, and golf simulation you'll quickly find yourself shooting lower scores than ever.
16 Data Parameters
Skills Challenges
Video Analysis with Data Overlay
Portable & Works Outdoors
FlightScope Golf App and E6 Connect (10 Free Courses)
The
Perfect

Hitting Bay

The SwingBay Hitting Enclosure was developed based on feedback from hundreds of our past golf simulator customers. It features:
Black out walls for better projection display
Durable & easy to assemble framing system
Military-grade screen built to withstand thousands of shots at up to 250 mph
Dimensions built to allow projection to fill entire screen
Side netting protects from errant shots
Life Like

Hitting Mat

The SwingTurf Golf Mat is one of the top golf mats on the market for realistic fairway-like feel. Choose between a 5' x 5' or 4' x 9' sized mat.
Takes Real Tees
Less Tension on Joints
Full Turf

Covering

Included with this package is 2 5' x 10' turf mats that will cover the entire space between your screen and mat. Giving your setup a professional look while also protecting your floors from bouncing balls.
A Projector Designed
For Golf Simulation
Our HD Short Throw Golf Simulator is designed for a bright display and perfect fit for the SwingBay Screen.
3000 Lumens for a bright image
High Contrast for Better Depth
HDMI Connectivity
Full HD 1080p (1920 x 1080) resolution

Includes SwingShield Projector Floor Enclosure
Your choice between an
iPad Pro

or

Gaming Laptop

Choose between an iPad Pro and the e6 Connect golf simulation software or a gaming laptop and TGC 2019.

The iPad Pro/E6 Connect will be the most budget-friendly option while the Laptop/TGC 2019 option will give you access to the best list of courses.
We've Thought of Everything So You Don't Have To
iPad or Laptop Stand
Each package includes a stand ideal for use with a laptop or iPad.
Apple HDMI Adapter
Included with the iPad Pro Bundle, the HDMI Adapter allows you to connect your iPad to any display with an HDMI input.
Ball Tray
Were you just going to let your balls be all over the room?
Birtees
Birtees make it easy to tee up your ball at multiple heights on turf.
What This Setup Will Look Like
Photos from our
30,000+

Customers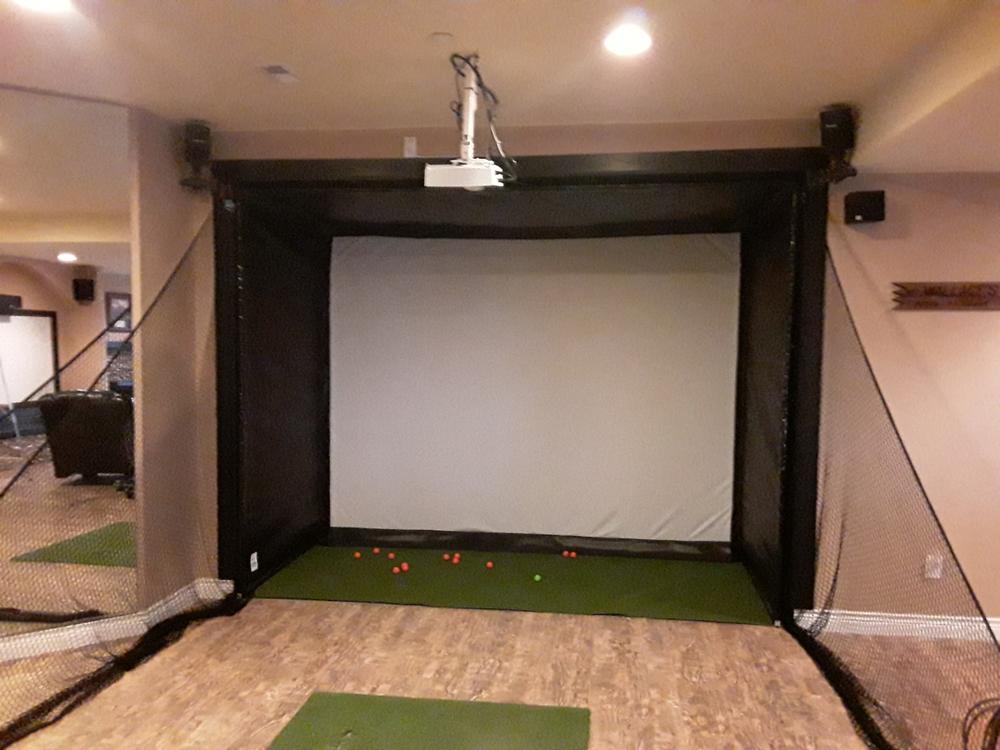 Commonly Asked Questions
×
What 2023 Edition Mevo+ Measures
Carry Distance

Club Head Speed

Ball Speed

Smash Factor

Spin Rate

Angle of Attack

Spin Axis

Spin Loft
Horizontal Launch Angle

Vertical Launch Angle

Lateral Landing

Total Distance

Roll Distance

Apex Height

Flight Time

Shot Shape
Available W/ The Pro Package
Club Path

Face to Path

Face to Target

Vertical & Horizontal Swing Plane
Low Point

Dynamic Loft

Vertical Descent Angle

Speed and Acceleration Profile
×
We're Here to Help!
Our Charlotte, NC based team of experts are available to help with any questions you have.
The Rain or Shine Golf

Tour
Purchasing from Rain or Shine Golf has it's perks! Purchase from us and get access to our exclusive Rain or Shine Tour.
The Rain or Shine Tour follows the PGA Tour schedule, hosting one single round event per week at that week's PGA Tour stop. Fuel your competitive spirits by playing against real golfers who are as passionate about the game as you.
*Rounds are hosted on the TGC 2019 software.
Reviews
Customer Reviews
Write a Review
Ask a Question
Filter Reviews:
everything
home
Rain or Shine Golf
Swing Bay
Mevo
challenge
matches
people
most
service
07/01/2022
Curtis S.

United States
Awesome purchase
I finally bought a swing bay for my home and I couldn't be happier. Everything from the purchasing process to the set up was very easy. I recommend Rain or Shine Golf and their swing bays to anyone who's considering such purchase. Great people to deal with with. Shawn you should be very proud of your people and your business.
04/21/2022
Robert D.

United States
Golf Simulator Package
Haven't started using it yet, but have most of it set up and it looks great. Customer service has been great to work with on some questions and minor issues. Excited to start using it soon.
04/03/2022
Robert C.

United States
MEVO + SwingBay Golf Simulator Package
Great service from Rain or Shine Golf. The MEVO + package is everything that I hoped it would be! Having a great time working on my swing and paying matches in the comfort of my home.
02/06/2022
Eddie Y.

United States
Happy
A bit of a challenge to put together, but was able to get it done in an afternoon. Still tweaking the projector and still waiting on the projector guard. All in all, Happy with my simulator.
Setup Info
We Accept Returns
FAQs
Why Buy From Us