SKYTRAK PRACTICE
Golf Simulator Package
FAST & FREE
SHIPPING
30-DAY
RETURNS
LOW PRICE
GUARANTEE
SECURE
CHECKOUT
Overview
The SkyTrak Practice Studio
The SkyTrak Practice Package includes everything you need for the ultimate indoor or outdoor practice setup. Including your choice of Golf Net (Net Return Pro or Rukket Sports Premium Golf Net), SkyTrak, the SwingTurf Golf Mat and Landing Pad, a high-powered gaming laptop for running the SkyTrak app and any simulation software you add-on, as well as many other accessories to complete your setup. You can be set up with your own portable home golf simulator package within minutes following the simple step by step instructions provided with each product.
With the lightweight design of these nets setup paired the convenience and portability of the SkyTrak, you can golf day or night, inside or outside, all year long with the SkyTrak Practice Golf Simulator Package!
Minimum Space Requirements:
9' High x 10' Wide x 12' Long
*Always get your driver out and take a slow backswing to ensure you have enough ceiling height prior to purchase*
What's Included
SkyTrak Launch Monitor & Protective Case
SkyTrak App & Game Improvement Software
Your Choice of Hitting Net
Choice of Hitting Mat
5'x8' Landing Pad Turf
Golf Simulation Laptop (Optional)
Laptop Stand (with laptop)
Laptop Sleeve & Mousepad (with laptop)
25' HDMI Cable
Everything is included:
HERE'S WHAT YOU'RE GETTING
SkyTrak Launch Monitor and Golf Simulator
ACCURATE
SkyTrak's accuracy has been proven against the leading commercial launch monitors with excellent results. It's the first product of it's kind to offer the same incredible accuracy of $10K+ commercial units at a fraction of the price.
BUILT FOR GAME IMPROVEMENT
The SkyTrak app provides a suite of game improvement features designed to help you achieve more meaningful and productive practice sessions.
Peer to Play
From a round of golf at Pebble to long drive & closest to the pin contests, SkyTrak makes it easy to play with friends and family.
YOUR CHOICE OF GOLF NET
Choose between the more durable GoSports Return Net (7.5' x 7.5') or a more affordable, yet still durable, Rukket Sports Premium Golf Net.
GoSports Net Features:
Over the top durability (Steel Frame)
Netting withstands shots up to 225mph
Automatic Ball Return
7' 6" Height x 7' 6" Width x 3' Depth
Rukket Sports Features:
Withstands high ball speeds
Easy assembly
7' Height x 9' Width x 3' Depth
The
SwingTurf

Golf Mat

Experience fairway-like feel with SwingTurf. A golf mat built to be easier on your body and cause less joint pain than other mats. Choose between a 5' x 5' or 4' x 9' size.
Takes Real Tees
Less Tension on Joints
Turf

Landing Pad

Included with this package is a 5' x 8' landing pad mat that will cover the entire space between your net and mat. Giving your setup a professional look while also protecting your floors from bouncing balls.
Golf Simulator
Laptop (Optional)
Golf Simulation software requires a fast processor and a high quality graphics card. Rather than put you through the painstaking process of findng a laptop with the right requirements, we've gone ahead and included one! The sale of laptop computers are final.
Our gaming laptops are well equipped to handle long range or course-play sessions.
Australia/New Zealand Customers: Due to restrictions set by the manufacturer, we are unable to ship SkyTrak products to Australia or New Zealand at this time. We apologize for any inconvenience.
Your Questions Answered
SkyTrak
vs

The Competition

Compare SkyTrak to Other Launch Monitors
×
What SkyTrak Measures
Carry Distance

Club Head Speed

Ball Speed

Smash Factor

Back Spin Rate

Side Spin Rate

Spin Axis

Spin Loft
Horizontal Launch Angle

Vertical Launch Angle

Lateral Landing

Total Distance

Roll Distance

Apex Height

Flight Time

Shot Shape
We're Here to Help!
Our Charlotte, NC based team of experts are available to help with any questions you have.
The Rain or Shine Golf

Tour
Purchasing from Rain or Shine Golf has it's perks! Purchase from us and get access to our exclusive Rain or Shine Tour.
The Rain or Shine Tour follows the PGA Tour schedule, hosting one single round event per week at that week's PGA Tour stop. Fuel your competitive spirits by playing against real golfers who are as passionate about the game as you.
*Rounds are hosted on the TGC 2019 software.
Reviews
Customer Reviews
Write a Review
Ask a Question
Filter Reviews:
Skytrak
Rain or Shine
system
Setup
golf
everything
experience
simulator
package
questions
04/05/2020
Phillip F.

United States
Great product!
I had been thinking of getting a golf simulator for a while. I didn't want to spend a fortune, so I settled for the practice setup and didn't go all-in on a projector or screen for now. I've got to say, I've been very impressed! Items arrived quickly and were simple to setup! I honestly hit balls for about an hour each night, and am really enjoying it! Thanks Rain or Shine for making this a very straightforward process!
03/23/2020
Travis W.

United States
02/25/2020
Micah B.

United States
Skytrak
Best thing I have ever purchased
02/28/2020
Rain or Shine Golf
Micha! Great! We appreciate you for submitting feedback on the SkyTrak Practice Golf Simulator Package! Thank you for being a valued customer! If you have any questions or need further support, please reach out to us! Thank you again for choosing Rain or Shine Golf! -The Rain or Shine Golf Team!
02/14/2020
Jeff S.

United States
SkyTrak Believer
In the 30 days that I've owned this product, I've been able to play 7 rounds of golf, far exceeding the 4 rounds I played all last year. The accuracy of SkyTrak is unbelievable, which is not to say it's perfect, but to hit golf balls in my basement and know that I'm getting results on the screen that I'd expect on 19 out of 20 shots is awesome. You will have an occasional shot that you'll know wouldn't have ended up that way on a real course, but it really doesn't take away from the overall experience. The bottom line is that I'm able to golf at 830 pm or when it's 30 degrees outside or when it's raining, and it's pure enjoyment.
02/17/2020
Rain or Shine Golf
Jeff! AWESOME! Wow we definitely love to hear when our customers are enjoying the true fun of being able to play golf year round, day or night! If you need any support please know that we are still here to assist you. Thank you for choosing Rain or Shine Golf! -Rain or Shine Golf Team
01/10/2020
Greg A.

United States
SkyTrac Practice Package
The item is fantastic. Exceeded expectations. My boys and are all low handicaps and we all agree on the results based on our feel. A great value. And the folks at Rain or Shine Golf were so easy to deal with. Very professional and helpful withe advice based on what we were looking for.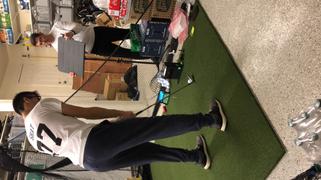 Set Up Info
FAQs
Why Buy From Us