SKYTRAK SWINGBAY
Golf Simulator Package
Ships in 1 to 3 Days
Add an extended warranty
Starting at
What's included with installation?
Complete setup of hitting bay

and/or net, mat, and side netting (if applicable)

.
Identification of best location for projector installation
Mounting of projector and projector mount to ceiling
Unit test with picture alignment and focus
Launch Montor initial setup and configuration (does not include golf course software installation)
How it works
After you complete your purchase, our team will be notified of your installation add-on. Once the tracking information for your package is set with an estimated delivery date, we will get in touch with you to set up an installation appointment. Installation typically takes two technicians 3-4 hours.
Important Notes of Install
Additional fee will apply to installs 50 miles outside of a major city.
The ceiling your projecter will be installed on must be 12' or under.
Be sure that your room has at least 1 reachable power outlet.
All work will be completed during normal business hours (M-F, 8-5pm)
Installers are not responsible for removal of left-over package contents.
**We are committed to doing our part to help prevent the spread of COVID-19. Our network of nationwide technicians now complete a Pre-Arrival Checklist screening for each job based on current preventative measures provided by the CDC. Additionally, the customer signature portion of the service ticket may now be waived.
FAST & FREE
SHIPPING
30-DAY
RETURNS
LOW PRICE
GUARANTEE
SECURE
CHECKOUT
SkyTrak SwingBay

Golf Simulator Studio

Looking for a high-quality golf simulator that will look good, stand the test of time, and provide endless entertainment year-round?

The SkyTrak SwingBay Golf Simulator Package has everything you need for the ultimate SkyTrak home golf simulation setup.
What's Included
✓ SkyTrak Launch Monitor and Protective Case
✓ SkyTrak App and Game Improvement Software
✓ The SwingBay Hitting Enclosure and Screen
✓ SwingBay Side Netting
✓ Choice of Golf Mat Size
✓ Optoma 1080p HD Short Throw Projector
✓ Projector Ceiling Mount
✓ 25' 1080p HDMI Cable
The
Perfect

Hitting Bay

The SwingBay Hitting Enclosure was developed based on feedback from hundreds of our past golf simulator customers. It features:
Black out walls for better projection display
Durable & easy to assemble framing system
Military-grade screen built to withstand thousands of shots at up to 250 mph
Dimensions built to allow projection to fill entire screen
Side netting protects from errant shots
Life Like

Hitting Mat

The SwingTurf Golf Mat is one of the top golf mats on the market for realistic fairway-like feel. Choose between a 5' x 5' or 4' x 9' sized mat.
Takes Real Tees
Less Tension on Joints
A Projector Designed
For Golf Simulation
Our HD Short Throw Golf Simulator is designed for a bright display and perfect fit for the SwingBay Screen.
3000 Lumens for a bright image
High Contrast for Better Depth
HDMI Connectivity
Full HD 1080p (1920 x 1080) resolution
What This Setup Will Look Like
Photos from our
30,000+

Customers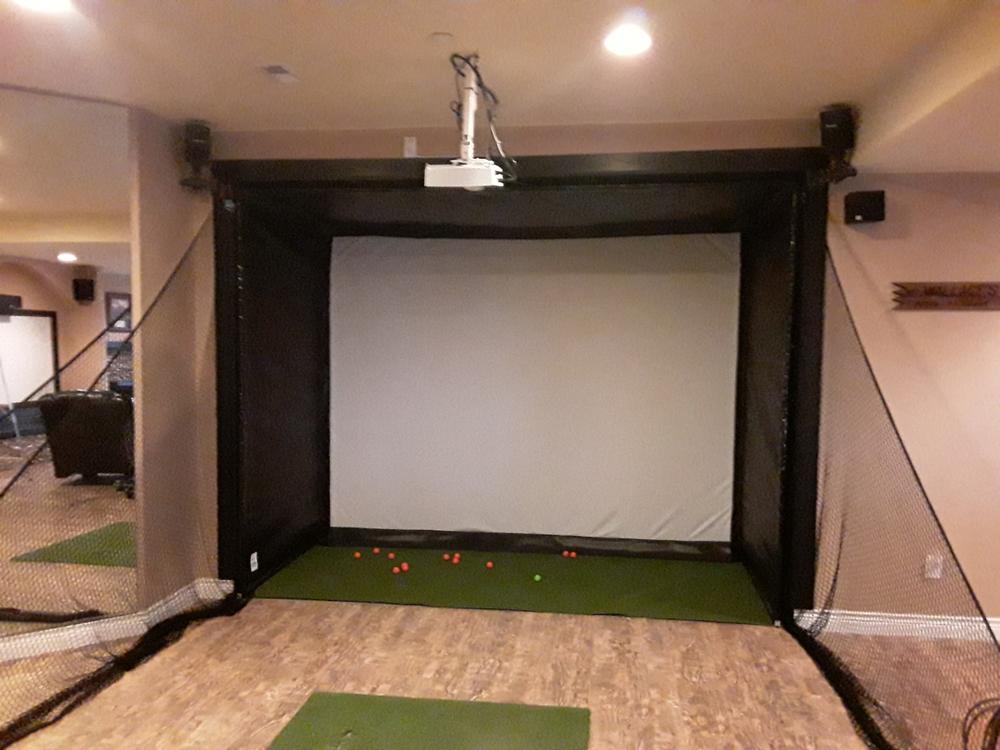 Why SkyTrak?
The
Ultimate

Indoor Launch Monitor

SkyTrak has been voted Best Value Golf Simulator by Golf Digest two years running. It is one of the best launch monitor and golf simulator systems on the market for many reasons:
Accurately measures over 15 data points
Peer to peer challenges
A suite of game improvement features
Compatible with many golf simulation software options
Skills Challenges
Setup skills challenges to make sessions more purposeful. Benchmark performance with saved presets or use the randomizer mode to let SkyTrak choose a random target for you each shot.
Bag Mapping
SkyTrak's Bag Mapping feature helps you plot your carry and total distance numbers for each club in your bag. Find poor distance gapping, miss tendencies, and more so that you can make better decisions on the course.
Shot Optimizer
The Shot Optimizer provides a view of your shot data combined with what is optimal for the club hit. Great for those new to launch monitor data!
Commonly Asked Questions
SkyTrak System Requirements
The SkyTrak App (Driving Range)
iOS
SkyTrak requires 3D graphics support. iOS devices released in 2015 or later will have no problems running SkyTrak. Which includes the following
iPad Air 2 or newer
iPad Mini 3 or newer
iPad Pro
iPhone 6s or newer (iPhone 6 and iPhone 6+ are not supported)
Android
Newer Android devices containing Octa-core (or dual quad-core) processors are compatible. Devices released in 2015 or later generally have no problems. This list includes:
Google Pixel C
Samsung Galaxy Tab S3
Samsung Galaxy S6
Samsung Galaxy Tab S2
Samsung Galaxy S8
PC
-Windows 7, 8, or 10
-Intel Core 2 Duo @ 2.0 GHz or higher
-2GB RAM or higher
Important Note: WGT is not compatible with PC Windows Desktop
Golf Simulation
To use the golf simulation integrations with SkyTrak, an additional software license must be purchased seperately. The top golf simulation softwares are E6 Connect, The Golf Club 2019, and WGT. Device compatibility requirements vary by provider. Here is a quick summary:
We typically recommend The Golf Club software for the best overall golf simulation experience. If you already have an iPad and do not need multiplayer, then WGT is a good budget friendly option. Please visit our SkyTrak Golf Simulator Software Guide for an in-depth guide.
How Much Space Do You Need?
Recommended Space Requirements:
9'H x 12'W x 16'D
Absolute Minimum Space Requirements:
8'H x 10' 3"W x 16'D
The actual dimensions of the SwingBay Enclosure are 8'H by 10' 3"W. However, we recommend 9' of height and 12' of width to ensure safe and comfortable swinging with all your clubs. We always recommend swinging your longest club in the space you will use to verify you can swing freely. When determining if less than 9' of height will work for you, be sure to account for the hitting mat being 2" thick.
The 16' of depth is a firm minimum. The SwingBay enclosure will sit 1' from any wall. You will need 8' of space between the screen and projector putting your stance area between 10-12' from the wall. You will then need another 4-5' for your backswing.
SkyTrak
vs

The Competition

Compare SkyTrak to Other Launch Monitors
We're Here to Help!
Launch monitor data, system requirements? We get that things can be confusing. Our Sim Squad is here to help with any questions you have. There is a good chance they are playing with SkyTrak in our Sim Room and need to get back to work anyway...
Call us: 1-888-831-9489
Text us: 1-844-572-0749
Email us: info@rainorshinegolf.com
The Rain or Shine Golf

Tour
Purchasing from Rain or Shine Golf has it's perks! Purchase SkyTrak from us and get access to our exclusive Rain or Shine Tour.
The Rain or Shine Tour follows the PGA Tour schedule, hosting one single round event per week at that week's PGA Tour stop. Fuel your competitive spirits by playing against real golfers who are as passionate about the game as you.
*Rounds are hosted on the TGC 2019 software.
×
What SkyTrak Measures
Carry Distance

Club Head Speed

Ball Speed

Smash Factor

Back Spin Rate

Side Spin Rate

Spin Axis

Spin Loft
Horizontal Launch Angle

Vertical Launch Angle

Lateral Landing

Total Distance

Roll Distance

Apex Height

Flight Time

Shot Shape
Reviews
Customer Reviews
Write a Review
Ask a Question
Filter Reviews:
Skytrak
golf
experience
Rain or Shine
Setup
questions
game
everything
videos
instructions
10/03/2020
Jeffrey C.

United States
Excellent experience!
We have had our Sky Trak and swing bay screen for about 6 months and have been very pleased with the experience. Everything has worked as expected.
10/03/2020
Frederick S.

United States
Thank you!
Adam was amazing. A great representative for your company. I love the product. It has greatly improved my game. Thanks.
04/22/2020
Gary B.

United States
Awesome SkyTrak SwingBay Golf Simulator Package
COVID 19 lockdown slowed us down, but I finally got a team together to help build my swing bay and set up the skytrak. It's awesome so far! Great customer service! someone was there with a quick, helpful answer every time I called. Even helped with a refund when the price dropped shortly after I placed my order!! Thanks for a great product and awesome customer service Rain or Shine Golf!!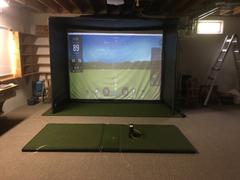 04/13/2020
Peggy B.

United States
Excellent Purchase
Very happy with the purchase of my SkyTrak system. The install was very easy. I was scared at first but it actually was simple. I didn't have to call for any help and I am not "Tech Savy" The unit has great graphics and it seems extremely accurate. Lots of additional display that will improve your game. SkyTrak will educate you on the game of golf. If you can spare the purchase it is def worth it.
04/08/2020
David F.

United States
Great product
Been far better than expected.
Set Up Information
FAQs
Why Buy From Us