SKYTRAK SWINGBAY
Golf Simulator Package
FAST & FREE
SHIPPING
30-DAY
RETURNS
LOW PRICE
GUARANTEE
SECURE
CHECKOUT
SkyTrak SwingBay

Golf Simulator Studio

Looking for a professional-quality golf simulator that will look good, stand the test of time, and provide endless entertainment year-round?

The SkyTrak SwingBay Golf Simulator Package has everything you need for the ultimate SkyTrak home golf simulation setup.
What's Included
Everything you need is included! Items marked with (optional) can be customized and/or removed.
✓ SkyTrak Launch Monitor and Protective Case
✓ SkyTrak App and Game Improvement Software
✓ The SwingBay Hitting Enclosure and Screen
✓ SwingBay Side Netting
✓ Golf Simulation Gaming Laptop (optional)
✓ Laptop Stand (optional)
✓ Laptop Sleeve & Mousepad (w/ laptop choice)

✓ Choice of Golf Mat Size
✓ 5'x10'7" Landing Pad Turf x2
✓ Optoma 1080p HD Short Throw Projector
✓ Projector Floor Enclosure or Ceiling Mount
✓ 25' 1080p HDMI Cable

The Most All-Inclusive SkyTrak Simulator Package on the Market
HERE'S WHAT YOU'RE GETTING
SkyTrak
SkyTrak has been voted Best Value Golf Simulator by Golf Digest four years running. It is one of the best launch monitor and golf simulator systems on the market for many reasons:
Accurately measures over 15 data points
Peer to peer challenges
A suite of game improvement features
Compatible with many golf simulation software options
The Perfect Hitting Bay
The SwingBay Hitting Enclosure was developed based on feedback from hundreds of our past golf simulator customers. It features:
Black out walls for better projection display
Durable & easy to assemble framing system
Military-grade screen built to withstand thousands of shots at up to 250 mph
Dimensions built to allow projection to fill entire screen
Side netting protects from errant shots
Life Like Hitting Mat
The SwingTurf Golf Mat is one of the top golf mats on the market for realistic fairway-like feel. Choose between a 5' x 5' or 4' x 9' sized mat.
Takes Real Tees
Less Tension on Joints
Full Turf

Covering

Included with this package is 2 5' x 10' turf mats that will cover the entire space between your screen and mat. Giving your setup a professional look while also protecting your floors from bouncing balls.
A Projector Designed For Golf Simulation
Our HD Short Throw Golf Simulator is designed for a bright display and perfect fit for the SwingBay Screen.
3000 Lumens for a bright image
High Contrast for Better Depth
HDMI Connectivity
Full HD 1080p (1920 x 1080) resolution

Includes SwingShield Projector Floor Enclosure
Golf Simulator Laptop (OPTIONAL)
Golf Simulation software requires a fast processor and a high quality graphics card. But not to worry - each package includes our gaming laptop configured to meet all your processing needs with no lagging or freezing.

NOTE: This laptop is optimized for TGC 2019, we cannot guarantee that it will support other software. The sale of laptop computers are final.

Note: If your router is more than 15ft away from where you plan to use your Simulator, you may want to consider buying a USB Wi-Fi adapter to improve signal range. We recommend this one.
What This Setup Will Look Like
Photos from our
30,000+

Customers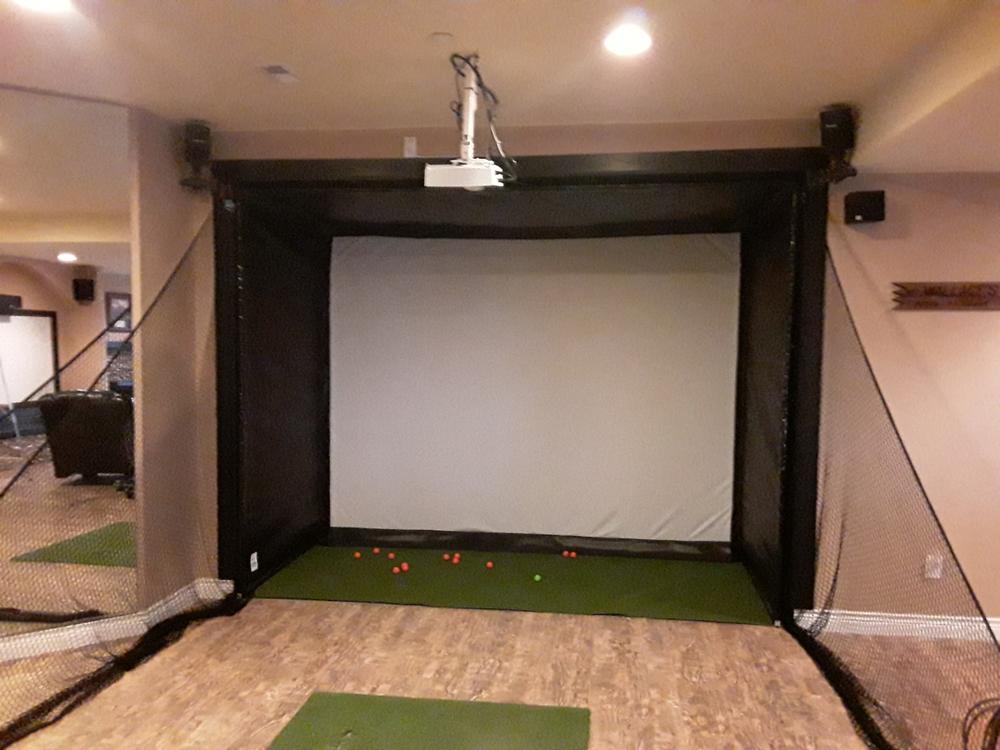 Australia/New Zealand Customers: Due to restrictions set by the manufacturer, we are unable to ship SkyTrak products to Australia or New Zealand at this time. We apologize for any inconvenience.
Commonly Asked Questions
Our Packages
vs

The Competition

See how our golf simulator packages compare to leading competitors
×
What SkyTrak Measures
Carry Distance

Club Head Speed

Ball Speed

Smash Factor

Back Spin Rate

Side Spin Rate

Spin Axis

Spin Loft
Horizontal Launch Angle

Vertical Launch Angle

Lateral Landing

Total Distance

Roll Distance

Apex Height

Flight Time

Shot Shape
We're Here to Help!
Our Charlotte, NC based team of experts are available to help with any questions you have.
The Rain or Shine Golf

Tour
Purchasing from Rain or Shine Golf has it's perks! Purchase from us and get access to our exclusive Rain or Shine Tour.
The Rain or Shine Tour follows the PGA Tour schedule, hosting one single round event per week at that week's PGA Tour stop. Fuel your competitive spirits by playing against real golfers who are as passionate about the game as you.
*Rounds are hosted on the TGC 2019 software.
Reviews
Customer Reviews
Write a Review
Ask a Question
Filter Reviews:
Skytrak
Rain or Shine
golf
experience
game
questions
Setup
everything
videos
instructions
12/23/2021
Ryan P.

United States
Golf while it snows
10 years ago, moved from Florida where we golfed year round to Idaho where we golf 6 months out of the year. Purchased the SkyTrak Swing Bay and absolutely love it. Ordered on a Saturday and it was on the front porch on Thursday. I was shocked how fast it arrived. I'm a right handed player and my son is a lefty. Two pieces of tape on either side and it's very convenient moving the launch monitor between hits. Got THC 2019. It is very realistic and accurate. Playing some PGA courses compared to playing local weekend warrior os a huge difference. Had an easy question about my launch monitor sitting on the launch pad. Called Rain or Shine and they fixed my problem within second. (If your launch monitor is plugged in USB and sitting on the launch pad, don't put the feet on the metal case). The monitor was missing a lot of shots when I had the feet on. Now it's perfect. Thanks Rain or Shine Golf.
10/03/2020
Jeffrey C.

United States
Excellent experience!
We have had our Sky Trak and swing bay screen for about 6 months and have been very pleased with the experience. Everything has worked as expected.
10/03/2020
Frederick S.

United States
Thank you!
Adam was amazing. A great representative for your company. I love the product. It has greatly improved my game. Thanks.
04/22/2020
Gary B.

United States
Awesome SkyTrak SwingBay Golf Simulator Package
COVID 19 lockdown slowed us down, but I finally got a team together to help build my swing bay and set up the skytrak. It's awesome so far! Great customer service! someone was there with a quick, helpful answer every time I called. Even helped with a refund when the price dropped shortly after I placed my order!! Thanks for a great product and awesome customer service Rain or Shine Golf!!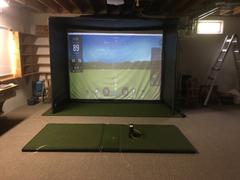 04/13/2020
Peggy B.

United States
Excellent Purchase
Very happy with the purchase of my SkyTrak system. The install was very easy. I was scared at first but it actually was simple. I didn't have to call for any help and I am not "Tech Savy" The unit has great graphics and it seems extremely accurate. Lots of additional display that will improve your game. SkyTrak will educate you on the game of golf. If you can spare the purchase it is def worth it.
Set Up Information
FAQs
Why Buy From Us