UNEEKOR
EYE XO Golf Simulator
Customize Your Setup
Ships in 5 to 10 days
FAST & FREE
SHIPPING
30-DAY
RETURNS
LOW PRICE
GUARANTEE
SECURE
CHECKOUT
Uneekor
EYE XO

Launch Monitor

The Uneekor EYE XO is a premium overhead launch monitor and golf simulator. It's super-speed cameras provide instant shot feedback and some of the most accurate, in-depth data on the market.

See why Uneekor is quickly becoming one of the top players in the launch monitor industry!

 
Turn On Precision
The Most In-Depth
Club
Analysis
The EYE XO offers some of the most in-depth club data on the market. The club data the EYE XO measures includes:
Club Speed
Smash Factor
Attack Angle
Dynamic Loft
Club Path
Club Face Angle
Face to Path
Club Loft Angle
Club Lie Angle
Impact Point
Enhanced

Club Path & Impact Footage
Compared to Uneekor's QED, the EYE XO features enhanced club path footage to help you get the best possible view of your club at impact.
What Data Does EYE XO Measure?
Face to Path
close1.5
deg
EYE XO

+

Swing Video
EYE XO Optix enables you to pair EYE XO with the Uneekor Optix Swing Cameras (or your own high resolution camera) and combine shot data with video analysis tools.
Clean

Hitting Space
EYE XO's ceiling-mounted setup provides a clean hitting area and is great for left and right handed play.
Ditch The
Marked Balls
The EYE XO's patented non-marked ball technology with dual high-speed camera-based technology allows players to capture a full range of precision data with the ball of their choice. No need for marked golf balls.
"The video it gives of the clubface on ball impact is a game-changer and really sets it apart from all the other brands of high-end launch monitors, I've improved more in the past month than the previous few years."
EYE XO
Golf Simulation
Play on your choice of simulator software
Experience stunning course-play with Uneekor's Refine and Suceed software. Additionally, the EYE XO integrates with other top golf simulation software packages including E6 Connect and TGC 2019.
EYE XO SCREENSHOTS
EYE XO Software Comparison
View
Included w/ purchase
UNEEKOR OPTIX: Validated Photographic Technology providing actual club impact and ball spin videos of each shot
Access to all EYE XO ball & club data
Virtual Driving range
Swing Video Analysis Tools
Refine
+$1,000
Everything in View, plus:
Course Play: Play 5 golf courses for up to 6 players
Course Practice: On course practice mode for an individual player
Additional Driving Ranges: Lake Range, Peak Range, & Targeting Range.
Short Game Training: Approach & Putting
Challenge Mode
Succeed
+$2,000
Everything in Refine, plus more courses:
Course Play: Access to 20 golf courses for up to 6 players
Common Questions About The EYE XO
---
---
---
EYE XO
vs

The Competition

Compare EYE XO to Other Launch Monitors
×
What EYE XO Measures
Ball Data
Carry & Total Distance

Launch Direction

Launch Angle

Side Spin

Back Spin

Spin Axis

Spin Rate

Launch Angle

Ball Speed

Flight Time

Offline Deviation

Apex Height

Land Angle
Club Data
Club Head Speed

Smash Factor

Club Path

Club Face Angle

Club Face to Path

Club Loft

Dynamic Loft

Attack Angle

Club Lie Angle

Horizontal & Vertical Impact Point
×
We're Here to Help!
Launch monitor data, system requirements? We get that things can be confusing. Our Sim Squad is here to help with any questions you have.
Call us: 1-888-831-9489
Email us: info@rainorshinegolf.com
The Rain or Shine Golf

Tour
Purchasing from Rain or Shine Golf has it's perks! Purchase from us and get access to our exclusive Rain or Shine Tour.
The Rain or Shine Tour follows the PGA Tour schedule, hosting one single round event per week at that week's PGA Tour stop. Fuel your competitive spirits by playing against real golfers who are as passionate about the game as you.
*Rounds are hosted on the TGC 2019 software.
Reviews
Customer Reviews
Write a Review
Ask a Question
Filter Reviews:
Rain or Shine
swing
Eye XO
screen
friends
experience
club
data
item
bottom
02/23/2022
Timothy A.

United States
So far so good
First time buying from Rain or Shine to be honest snd so sad the experience has been good. To be honest I made a large purchase item and they were the only retailer to offer great financing for it so I went with them. I will try and give some more business to them in the future, I like to stay loyal to companies that are helpful.
02/12/2022
Brian S.

United States
Par2pro screen
I received the 10' screen faster then expected, it works perfectly, the screen is great, i project 4K onto it and it seams pretty good/ better compared to some of my friends who have a lower end system and screen producing 1080p, the keep a little Waite on it at the bottom and the screen stays flat, played a dozen rounds onit and can't see any imperfections yet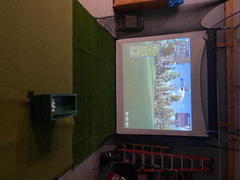 01/03/2022
HYUNG R.

United States
exo eye
Really great and easy to use
12/31/2021
Brian M.

United States
Eye xo simulator
This machine is so accurate and with the uneekor golf trainer , it will help you correct your swing
11/01/2021
Dennis G.

United States
Uneekor EYE XO
I'm just over the top about this product. Although the instructions were a bit difficult to follow set-up was quick and easy. The driving range allows you to see club to ball contact making it easy to change your position and correct defects in your swing.
Specifications
We Accept Returns
FAQs
Why Buy From Us