Studio Shed Golf Simulator Shed
Building the golf studio of your dreams is within your reach! Studio Shed's prefabricated studio sheds allow you to build the perfect golf simulator shed for your backyard.
OVERVIEW
The Ultimate Backyard Golf Shed
Build the golf studio of your dreams with Studio Shed prefabricated shed units! Each shed is customizable to ensure a perfect fit for your backyard and personal preferences. Sheds are made with sustainable materials and come complete with finished interiors, fully wired for power and internet.
Now you can play golf anytime, in any weather, from the comfort of your own backyard.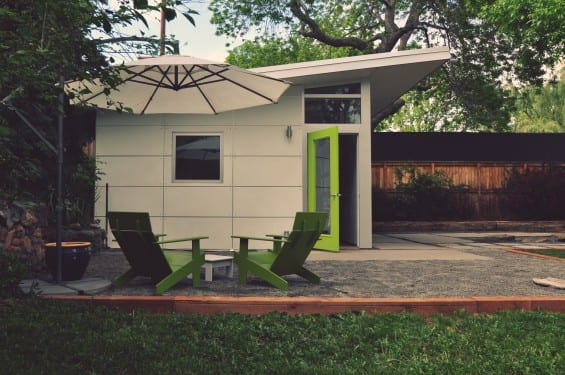 BENEFITS
Why a Golf Shed?
The ultimate man-cave
Build the ultimate man-cave. Units can be configured in a multitude of ways, including being fully wired for power and internet. Build the studio of your dreams that will make all your friends jealous!
Privacy 
Create your own private sanctuary, free from distractions. Your family will also thank you when they are free from the constant sound of you hitting golf balls in the house!
Save space in your home
A golf shed offers the best of both worlds. A space for golf while still preserving all the rooms in your house! A golf shed prevents the need to convert a guest room, garage, or basement.
Dual-purpose
A backyard golf shed can be used for many other functions such as:
Home Office/Study
Movie Theatre
Home Gym
Yoga/Meditation Studio
Art Studio
And so much more!
Learn more at Studio Shed
Multiple Size Configurations
Sheds come in a variety of sizes and dimensions in order to fit your exact requirements.
The Signature Series
Great for small practice studios
The Portland Series
Great for mid-size golf studios
The Summit Series
Great for a full-size golf studio that is able to accommodate a large golf simulator and additional office.