SkyTrak Compact Golf Simulator Package
SkyTrak Compact Golf Simulator Package Reviews
Customer Reviews
Write a Review
Ask a Question
Filter Reviews:
Skytrak
Rain or Shine
simulator
Software
courses
Setup
golf
everything
distances
03/29/2020
Jordan P.
United States
01/14/2020
Michael W.
United States
January Golf in NY
very good, I have done quite a bit of indoor simulator golf and I am pleased to report that the equipment works as well as expected. The only trouble is with putting the monitor misses quite a few swings.
01/14/2020
Rain or Shine Golf
Michael! We are so glad to hear that you are enjoying quite a bit of indoor golf due to your simulator package! If you are still having issues with missed reads, we suggest trying the following -Balance lighting (no spotlights) -We also suggest placing the golf ball slightly behind the laser. This should help, if you still need further assistance, you can call us at 1-888-831-9489. Thank you for choosing Rain or Shine Golf! - The Rain or Shine Golf Team -
12/18/2019
Pernell P.
United States
Compact Golf Simulator
Easy to setup, was hitting balls within a couple of hours of receiving shipment. I purchased The Golf Club software and am loving it. I will be traveling to Scotland next summer on a golf trip. With the Golf Club software and SkyTrak I have been able to play courses (Old Course, Carnoustie, Cruden Bay) that I will be playing on the trip.
09/03/2019
STEVE S.
United States
Love it and still learning
Fantastic. First, the service from Rain or Shine was great. Easy to get ahold of and solid prompt answers along the way. The product is everything I wanted. One thing I am still struggling with is where to place the laser when hitting off a tee. I get more no reads than read shots. Could use some pointers on that. Otherwise great!!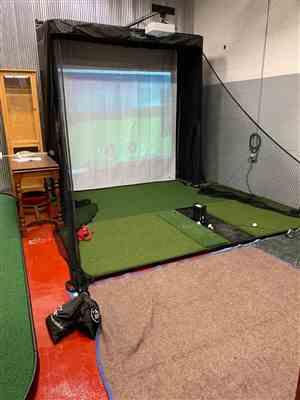 09/09/2019
Rain or Shine Golf
Steven, We're glad you're enjoying your new SkyTrak Platinum Golf Simulator Studio! Regarding the tee situation, we've found that many factors can affect the performance of the SkyTrak reading the shot. If you're using rubber tees, the white ones can often affect accuracy of the read. One option you might want to consider is the BirTee. We use them at Rain or Shine Golf and have a pretty good accuracy rate in our SkyTrak reading the shots. For more info on them visit https://birteegolf.com. If you have any questions or want more information on how to get the most out of your practice area feel free to join the Rain or Shine Golf Clubhouse at https://www.facebook.com/groups/rainorshinegolf/ -Rain or Shine Golf Team
07/31/2019
Tracy S.
United States
Love my Sky Trak Platinum Golf Simulator Studio
I absolutely love my Sky Trak Platinum golf simulator! I started playing golf about five years ago after retiring from a 20 year career in the Army. I am very competitive, and grew up playing many sports such as football basketball, martial arts, and baseball! Golf is literally one of the hardest activities I've ever participated in. Due to my work ethic and desire to be exceptional in whatever endeavors I partake in I spend quite a bit of time trying to improve my golf game. Living in Florida I have the opportunity to play golf regularly and practice at the driving range however, we do have a rainy season here which sometimes presents a problem for practicing in the afternoons. By purchasing the simulator I was able to establish an environment to allow me to continue to improve my game and not be affected by the rainy weather. I love the product; it has met or exceeded my expectations. I know the distances and statistics are accurate because I've had my swing evaluated using track man and several other monitors. I would highly recommend it to anyone looking for a very accurate reasonably priced call simulator!
07/31/2019
Rain or Shine Golf
Tracy, First, we at Rain or Shine Golf would like to thank you for your service to our country! We're also thrilled to hear you're enjoying your SkyTrak Platinum Golf Simulator Studio. We're sure your golf game is on the upswing as a result! For more information on how to get the most out of your purchase head over the the Rain or Shine Golf Clubhouse at https://www.facebook.com/groups/rainorshinegolf/ Thanks! -Rain or Shine Golf Team